English as she is spoken. The project started in 1992. Eight years in the making meant continuous additions and improvements. Teachers gather a "greatest hits" of material and it was great to use pedagogic ideas picked up over the years. The "card game" (page 82) was invented by a Mathematics lecturer. I still use the first set of cards from T.P. – Teaching Practice in the early 80's in west London, realizing the idea could be used with language – "London" and "Food". (A "Dental" card game was not included in the book but maybe next time…)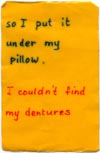 Talking of "English as she is spoken II", new texts are being piloted. In Sweden there is little tailor-made material available for teaching conversation unless you spend hours hunting on the internet and photocopying. This makes the lot of the conversation course teacher even more frustrating. In law the study circle requires "study material". Here's a book with all the four skills – 116 pages packed with texts and authentic "realia" – ads, articles, leaflets, menus… It's simple to use – no need to labour through a teacher's book. The exercises (in grey to prevent photocopying) are stimulating and fun – never boring, as there is always variation.
I did "the rounds" of the publishers but they consider the market too small, hoping study circles will use Komvux books. One English teacher in Märsta said she was "gutted" when she discovered my book, having just been issued with the standard tome. Book shops seem to have given up on "conversation", concentrating on business English and "Cambridge." But pupils know there's more to life than exams, with conversation courses currently thriving.
The more the project progressed the more I realized that I might as well self-publish as there was plenty to co-ordinate – cassette recording, answer key, contact with copyright owners. I wanted to have "artistic freedom", not be dictated to by a marketing department. I've kept a publisher's letter; "Too Stockholm fixated – will never go down well in Pajala!"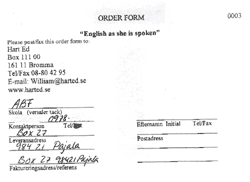 In 2001 a faxed order arrived from ABF Pajala! "Uneven in language level!" was another comment. Course books should reflect that a class of students are never at the same level. If publishers were more daring who knows what the standard of English in Sweden might be. "Intermediate" is the book's label. I use it for the English B course at Märsta Komvux.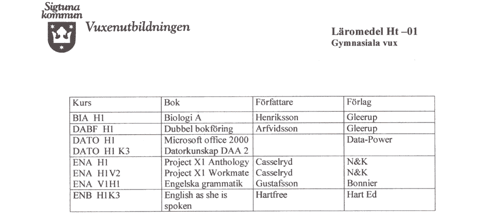 Back in London in the summer of 1999 there was lots to do. I was in two minds about whether to go ahead! One relative who used to work in publishing but is now in marketing advised, "Don't!" Self-publishing means 80% of the work remains – to promote your material.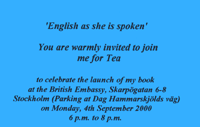 It was touch and go if I would make the September release party deadline and could send out invites. I wanted the layout to be state of the art – rich, stimulating and provocative, using "Add to taste" design and advertising in London. Richard Payne did the guidelines for Chapter 1 and then we spent a week putting the rest of the chapters together, just before I took the ferry back to Sweden. I enjoyed working in the small office close to Hyde Park and Notting Hill. One of the employees was conveniently on holiday, so I could take his place and Andrew White was brilliant punching out the scans. (Andrew even popped out to buy a Dime bar, digitally photographed for the Food chapter on page 12). I was still contacting copyright owners. Hectic days, but we made it – "More corrections!" being Richard's standard phrase (I rang him from the boat with more corrections, on reaching Esbjerg). Hopefully he could make the release party to show off his graphic skills. In the end we had the British Council, a host of Studieförbund representatives and a rather large British Commonwealth Association teapot.
The printing firm Rep asked how I was going to sell all those books. Printing was delayed until the day after the launch. "Be prepared" in teaching – find the positive even in your darkest hour. Here was the opportunity for personally presenting the material when delivering copies to guests after the event. Watching the finished product coming out of the printing press must be the closest a man ever gets to giving birth!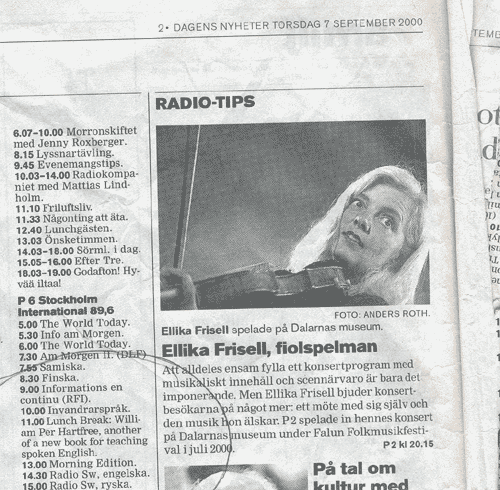 Printing was just in time for a radio interview (Included on the cassette B side) on Radio P6 Stockholm International with Keith Foster! Keith was superb with his support. I was shaking like a leaf but this was great publicity. Two prize-winners rang in for their copies. In the half-hour slot I promoted the English Speaking Community Club's concert that evening with singer Marilyn Minns Lapteva, who is on the cassette with her daughter Eugenia. I had my first small ad in the club Newsletter.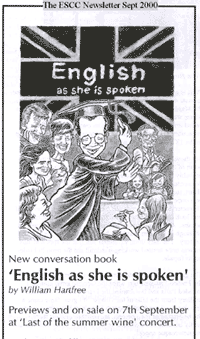 Peter Dickson, a familiar figure on the English teaching scene, also stars on the cassette. He kindly wrote a short review in the next Newsletter.

Nice to be in Dagens Nyheter too and I had a newspaper interview lined up at Sigtunabygdens Märsta Tidning, a free local newspaper with a circulation of 9,000 in the Sigtuna/Märsta area.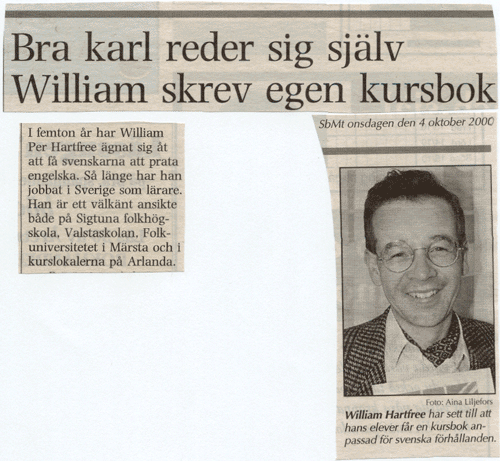 Thanks to Aina Liljefors – for her generous interview, making page 3! (Felt like retiring after that.) The book was also on the Folkuniversitetet First Class press cuttings web site which provoked interest.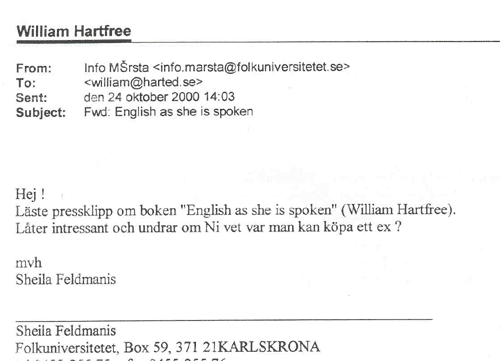 Märsta Folkuniversitetet's Gunvor Hellquist, sadly retiring at Christmas 2002, has been a great fan and the book has been used by Bob Nichols at Märsta FU from the start. Bob's use is a breakthrough as he is an American and the book is very English. But he is a tremendous Anglophile. "English as she is spoken" can be used by any global English teacher. I am aware of educational trends towards world English but make no excuse for playing to my strengths and not dabbling in that sphere.
Why do the settings for the chapters alternate from England to Sweden (apart from "Food" which is a glorious mixture)? Take Sandhamn. As any former student of teaching reading knows, kids "crack the code" by using the pictures in their readers. Sandhamn works on the same principles. Familiarity with the trip will aid understanding of the text. The format is traditional with text and vocabulary lists below if needed. If you haven't made the trip it's about time! It's practical, for situations like welcoming an English speaking guest from abroad and not remembering the word for pike or jetty that comes up again and again.
The texts' styles are varied – some formal and descriptive, others lively and provocative but all designed to fire the imagination and spark off discussion. Play reading (three chapters) and rich dialogue give students the chance to get used to saying common phrases from daily life. London is the obvious place for Swedes – "a native's guide". The next stage is to video the London trail – kom igen Utbildningsradio!
Some have asked about the title. My Dad came up with "English as she is spoken", which I initially rejected, but then realized the genius – original, catchy and it has proved very popular. (My Dad refers to trains, boats, rivers and now language as "she" – mother tongue. Some have had difficulty with the title's grammar, but then what's new? – poetic licence is certainly not.) A publisher had commented that there was very little in the book for ladies and they were the majority of pupils. That saw the birth of "Chelsea Flower Show" and a revamp of the material. A teacher colleague, Janet Pearce, said that the first thing she did on picking up a book was to look at the balance of men/women pictures.
I had useful training for self-publishing. After college I worked in the music department of Foyles famous bookshop for half a year. I also did some literary criticism lessons at Hersby Gymnasium and was on hand in the staffroom to see the teachers' response when the publisher's Rep spread out his books on the table.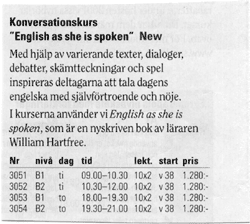 The first time the book finally made the Stockholm Folkuniversitetet programme, over 50 pupils enrolled. "Why did you choose this course?" I asked in disbelief! That autumn Lena McIvor wrote a brief review in the Folkuniversitetet DU & FU Newsletter.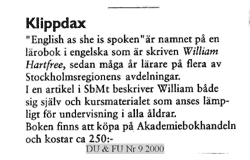 I used the book at Sundbybergs Folkhögskola and Richard, one of the class said, "This is a best seller". I had read out the names of all the class – calling the register, during my radio interview. The school was the first place where I talked about the book to an audience of teachers. Inger the secretary called me an "eldsjäl" the next day!
I wanted to thank those who had been closely involved in the project and was hoping to ask Australian cartoonist Simon McClean to produce a front cover. I met Simon at the local tennis club a few years ago and when he returned to Australia he gave me copies of cartoons – "To brighten up dull moments during English lessons"?! I have 6 "Simon" cartoons in the book as they dovetail with the texts and include language for chorusing in class. I wanted to have a front cover with all generations represented. Simon sent prototypes to London by e-mail and then Richard Payne did the surround – a design copied by Folkuniversitetet in their latest course programme?! My image is a caricature, which I can live with and I like the heart shape on my forehead – Hart Ed – something dreamt up while walking on Wimbledon Common.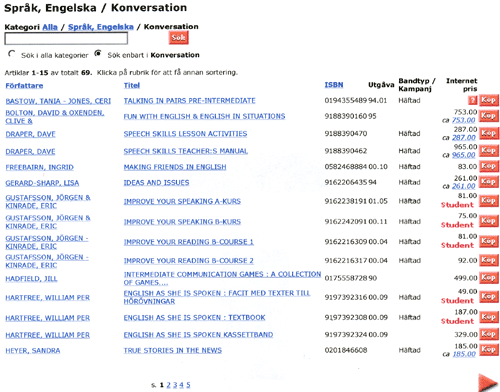 The book made the English Conversation shelves of Akademibokhandel during that first Autumn. Encouraging to continuously make breakthroughs! The Akademibokhandel buyer asked me, "Who is going to distribute it?" Quickest delivery time so far to the Mästersamuelsgatan Stockholm store from my Bromma home after a faxed order is half-an-hour. If you self-publish you will meet plenty of obstacles. But it's good to be in control at every stage.
I was sending out single orders of copies to study circles and Vuxenskolan in Torsby ordered directly after an e-mail campaign. A day later the study secretary rang and asked to return it! Now Lena Grankvist is one of the biggest promoters of my book.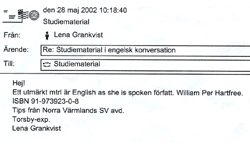 When I visited Örebro, summer 2002, the secretary at Vuxenskolan said, "Hang on, I have something about your book in my in-tray". Sven Göran and "viral marketing" from Torsby! News is spreading.
I had an ad in Svenskläraren early in 2002. Another breakthrough was when Vuxenskolan put an ad in their Bromma study programme.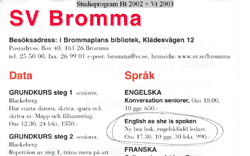 Receiving complimentary e-mails too! One from a pupil at Vänersborg. Correct about the humour and not smutty as is the trend in many school books.

"English as she is spoken" is certainly not "skolboks engelska" but contains a wealth of everyday expressions. "A book to help you actively communicate in English with ease and enjoyment."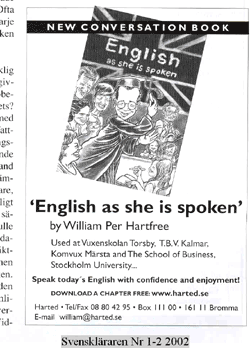 Bob Nichols has come up with the first review, scheduled for publication in Lingua in January 2003. No need for a promotional tour!